Nave Windows
There are four stained glass windows in the Nave. Viewed from the east (left):-

Next to the pulpit is a memorial window representing St. George. The dedication reads "To the Glory of God in Memory of Author George Leather Culley of Fowberry, sometimes Lieutenant Coldstream Guards. Born 1879 - entered life eternal 1910. Given by his parents and his wife. Fear God. Love the brotherhood. Honour the king." His medals are portrayed at the bottom.
The second window was given in memory of D. F. Bell aged 19 and F. R. Bell aged 17, daughters of the Reverend Henry Bell, who died September 2nd 1883 and September 6th 1882. It depicts the parable of the Wise and Foolish Virgins (Mathew 25:1-13) and contains the quotation "Watch, for ye know neither the day nor the hour wherein the Son of Man cometh". At the top of the window is an angel with a crown and a falling star. This window was designed by the Newcastle artist George Joseph Baguley and is unusual, for in it Baguley departs from his normal style and shows a strong influence of the "aesthetic movement".
The third window (also by Baguley, but more his usual style) is in memory of Helen Darling (b. 1806 d. 1884). It is in two sections, both on the theme of faith. The left hand window shows the Canaanite woman asking Jesus to heal her daughter, together with the quote "O woman great is thy faith". The right hand window shows the prophecy of St. Peters denial with the words " I have prayed for thee that thy faith fail not" (Luke 22:32). Above the window is an angel holding a scroll on which are written the words; "Blessed are the pure in heart, for they shall see God". This window was placed in the church on May 1st 1886.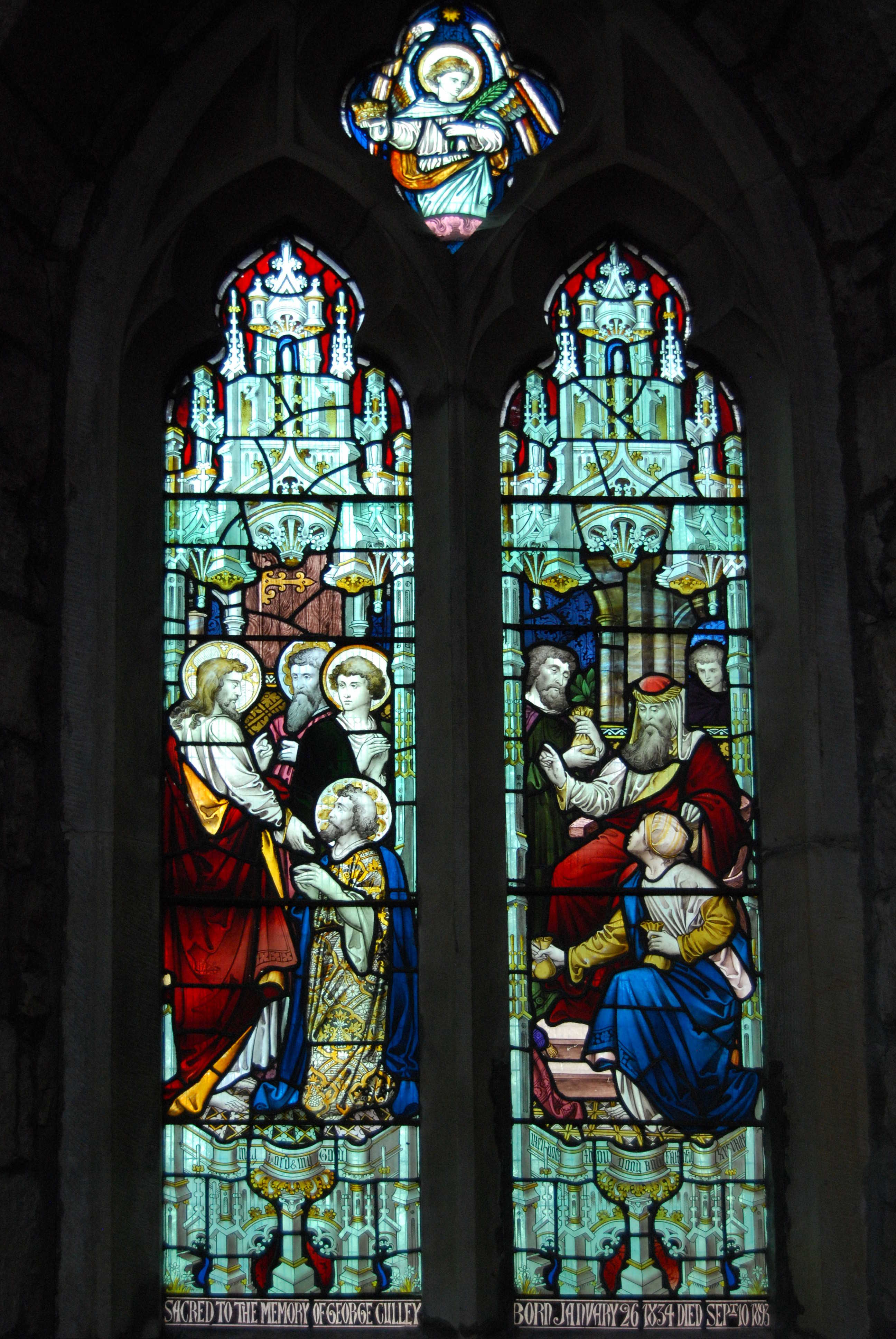 Above the fourth window is an angel carrying a crown and a palm branch. It is described as "Sacred to the memory of George Culley born January 26th 1834, died September 10th 1893". Like the last window it is in two sections. The left hand side shows Jesus' resurrection appearance to Thomas, with the words "My Lord and my God", and the right hand side depicts the parable of the talents with the words "well done thy good and faithful servant" again this window was designed by George Baguley.